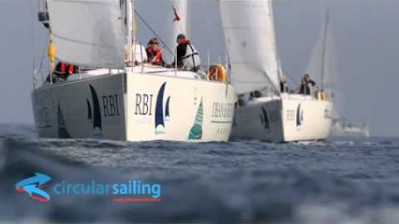 Yacht racing whipped up a lot of attention in 2012 and 2013 with televised team tussles against the wind and the high seas in full view of global audiences during the London Olympics and America's Cup.
Circular Sailing Ltd is aiming to build on the sport's growing popularity by bringing a new dimension to the UK sailing scene with its unique sailing competition.
Having already raised £160,000 in equity investment for its new 'pay to crew' yacht racing series, the Round Britain and Ireland Challenge (RBIC) – which will see participants take on an adrenaline-fuelled voyage to circumnavigate the UK and Ireland – the company requires a £50,000 loan investment to truly set the wind in its sails.
Similar global racing events, which are operated from the UK, require up to a 12-month commitment. This race fills a gap in the pay to crew yacht racing market as it takes only four weeks and is set in several seven stages (each of which is treated as a separate race). Using this format, competitors can choose either to partake in all the race or just a number of legs– opening the race up to more of the company's initial target market, which comprises almost 1.1M people who took part in a similar sailing activity in 2012 (Department for Transport Watersports Participation Survey).
The Round Britain and Ireland Challenge will be held three times a year from 2016, costing between £3,999 and £5,499 per person (dependent upon the time of year) for up to 28 days racing including time in port and all food whilst at sea – the company will run races in April, July and September. Six matched 46-foot long yachts will be pitted against each other. Each will be crewed by one professional skipper, one qualified mate and up to seven paying crew per boat.
Yacht racing is one of the most sponsored sports on the planet and the company has already held talks with global brands such as, Helly Hanson , which would provide the bespoke, branded RBIC clothing, and Piper Heidseick champagne. Diabetes UK and Walking With the Wounded are potential chosen charity partners.
Through a long term relationship between global yachtsman, Steve White (www.whiteoceanracing.com) and Director Charlie Walker, the company has gained useful insight into equipment choice and operations. It is hoped that Steve will work with the company as a long-term advisor, though his own racing schedule would need to remain the focus of his efforts.
The raised funds would form part of an overall pot of £650,000 that will be made up of investments from a Government start-up loan as well as other interested parties. This will ensure the company can acquire the boats and support vehicles, and to trade for much of year one without returning a profit. The company expects to come into profit in year two, when the first RBIC takes place .
The equity investment raised has been generated from cash inputs by Charlie Walker and through investment in fleet made by the owner of the largest independent yacht company in the world. This same company will assist Circular Sailing Ltd with marketing, taking the company's reach worldwide from day one.
The race is expected to generate yearly revenues in the region of £0.5M from year three onwards. Additional revenue streams will include event and boat sponsorship as well as traditional yacht charter income. The company has also had positive conversations with Visit Cornwall and Derry-Londonderry as part of regional tourism development initiatives.
Circular Sailing will begin operations as a charter business in 2015 and will begin marketing the 2016 RBIC events at Go Live in 2015.
Once live the, the business will operate from Portsmouth and The Solent but will retain is current admin based in Bedford.